Motorola Batteries
Motorola Batteries

Motorola batteries perform better to help your workers stay safer. Whether your people are pursuing a suspect or patrolling a power plant, you can't shortchange their safety. Their radio is their lifeline and if the battery fails, so do they.

Motorola radios and batteries perform optimally together by design. Unlike aftermarket battery brands, Motorola batteries are designed and developed as an integral component of their two-way radios. No other aftermarket battery manufacturer can offer that certainty and compatibility with Motorola radios. Motorola engineers, manufactures and tests to stringent specifications to make sure their batteries withstand the most unforgiving environments. So you can be confident Motorola's radio batteries perform reliably, when you need them most.
Motorola also offers "intrinsically safe" (IS) batteries that are approved for use with the Motorola instrinsically safe approved radio unit. We can only ensure the continued certification and compliance of our radios with the use of Motorola approved intrinsically safe batteries.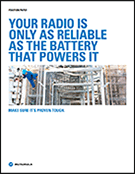 Your Radio is Only as Reliable as the Battery That Powers It
Make sure it's Proven Tough.
Every component of Motorola's batteries are built tough from the inside out. They start with premium cells, add shock absorbing spacers and materials and complete the design with a durable polycarbonate plastic housing. Even the belt clip is designed to absorb some impact when a battery is dropped. Finally, Motorola completes their battery design with state-of-the-art computer-controlled assembly equipment. All of this is done to help ensure you have a battery that performs in even the toughest conditions.
Motorola Proven Tough Battery Position Paper
Advanced IMPRES Batteries And Chargers
IMPRES™ 2
A NEW GENERATION. COMPLETELY RE-ENERGIZED.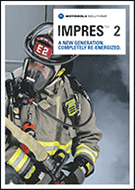 Your radio is your lifeline. If your battery dies, it jeopardizes everything. That's why Motorola introduced the original IMPRES energy system. With automated power management, IMPRES chargers deliver accurate information on every IMPRES battery in your fleet, so you can be confident in your team's ability to communicate no matter what they're up against.
Now there's IMPRES 2 designed for APX™ series radios. It's a next-generation energy system that's safer and smarter, while keeping you powered for even longer. With IMPRES 2 chargers, you can charge IMPRES 2 batteries up to 40% faster. Customize your charging to extend the life of batteries in storage. And manage power more intelligently with enhanced diagnostics, so you get the most from each battery.
IMPRES 2 batteries have been improved inside and out, so your team can tackle whatever the day brings. With higher capacity, you'll get more talk time. With better water resistance, you'll never think twice about submersion. And with the ability to charge up to 60% more times than standard Lithium Ion batteries, you'll reduce costs.
Key Features
IMPRES 2 Multi-Unit Charger
Charge batteries up to 40% faster
Disable calibration for greater control
Optimize battery life in storage with customizable settings
Enhanced, built-in charging diagnostics
Six integrated USB charging ports
Clip-on accessories shelf for an uncluttered workspace
Read data quickly and easily with six integrated displays
IMPRES 2 Single-Unit Charger
Charge batteries up to 40% faster
Disable calibration for greater control
Two integrated USB charging ports
IMPRES 2 Batteries
Get up to 60% more charges than a standard Lithium Ion battery
Higher capacity in the same size
Extended talk time
IP68 submersion (2 meters, 4 hours)
48-month workmanship warranty
24-month capacity warranty
Downloads
Motorola Battery Information
Motorola IMPRES Energy System
Motorola Proven Tough Battery Information
Motorola Commercial & Professional Radio Accessory Brochures
Motorola Public Safety Radio Accessory Brochures

Sign up for updates
Subscribe to Our Newsletter and get the latest two-way radio news and advance notice on promotions.