About Us
About Us
Roe Communications has been providing extraordinary wireless solutions to Southwest Michigan customers for over 65 years. Founded in 1950 by Wayne and June Roe, the company was first operated out of their home. During this first decade, the Roe's formed an alliance with Motorola, officially making Roe-Comm., Inc. an authorized Motorola Service Station (MSS). The mid eighties brought the company new opportunity when John and Judy Carnago purchased the company from the Roe family. In November 2000, Roe-Comm. celebrated their 50 year anniversary as a MSS with a ceremony at the newly renovated company headquarters on Ramona Avenue, in Portage Michigan.
Roe-Comm. has been involved in several major projects in the area such as 911 Dispatch Center Designs, Sales and Implementation and the relocation for multiple counties. Currently the Industries leader in BDA design and optimization and have also installed many Multi-County Linked Capacity Plus Road Commission Solutions. In 2015, Roe-Comm was heavily involved in the Michigan Public Safety Communication System Remediation Project. Today, Roe-Comm's ever expanding services have also taken on areas in Central Michigan. Our services include: system consulting and design, mobile data, systems mapping (Coverage), FAA & FCC process management, Antenna System Solutions, rental of communications needs and repair of two-way communications products. Everything we sell is installed and serviced by our professional, well trained technical staff.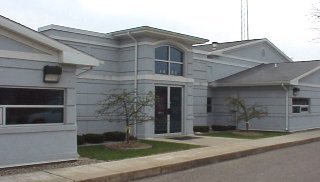 Sign up for updates
Subscribe to Our Newsletter and get the latest two-way radio news and advance notice on promotions.