Siren And Lights Interface Module
APX Mobile Radio Siren And Lights Interface Module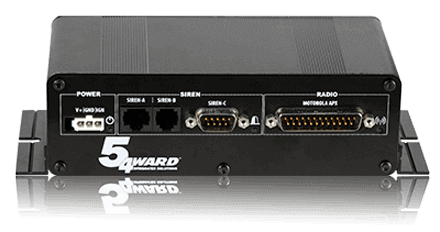 Flexible Integration of In-vehicle Controls
Public safety personnel need to respond the moment a call comes in. The Siren and Lights Interface Module connects new or existing third-party light and siren systems to Motorola's APX7500/APX6500 mobile radios. This solution allows the user to control all in-vehicle radio, siren, and light functions from an 03, 07 or 09 APX control head to fit any response scenario.
Features
Ease of Installation
Connects to APX mobile with 1 cable. Connects to OEM sirens with 1 or 2 cables.
P25 TDMA Capable Two-Way Mobile
Compatible with APX 7500 and 6500 TDMA capable radio and feature set.
Support For Third-Party Siren And Light
Compatible with Code 3®, Federal Signal, Whelen® Engineering
Control Head Compatibility
Compatible with APX O3, O7, and O9 control heads.
Quick Set-up
USB Programming utility available.
Consolidates PA Audio
Supports single microphone for two-way audio and PA audio.
Inputs/Outputs
4 dedicated inputs for auxiliary functions.
Allows specific radio function to operate from steering wheel control (if equipped)
Allows specific radio functions to operate from vehicle OEM sensors
4 dedicated outputs for auxiliary functions
Expands APX VIP options

Sign up for updates
Subscribe to Our Newsletter and get the latest two-way radio news and advance notice on promotions.