G Series Compact Site
Motorola G Series Compact Site
Outdoor Design. G-Series Performance.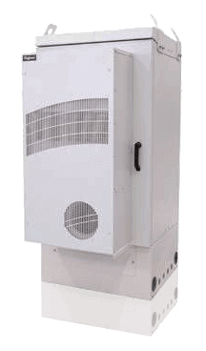 Protected from the elements, the G-Series Compact Site is a complete ASTRO® 25 site that can house up to three GTR 8000 Base Radios in an outdoor, environmentally controlled cabinet. It is ideal for Project 25 (P25) deployments where building enclosures are not cost-effective or feasible due to difficult terrain.
Because it uses the same G-Series components as our indoor configurations, you get the same capabilities and performance trusted by thousands of deployments and years of operation.
Features
Easy Site Design and Easy Installation
Reduce the costs and complexities that come with full-size building enclosures. Simply place it on a pad or hang it from a pole and connect up services.
Fill-in Coverage
A few channels may be all that is needed to carry traffic as users travel between densely populated areas. This easy-to-deploy site is a low-cost option for expanding coverage.
Downloads
Astro 25 G Series Compact Site Datasheet
G-Series Site Equipment for ASTRO® 25 Radio Systems Datasheet
mission-critical Communications - Designed to a Tougher Standard

Sign up for updates
Subscribe to Our Newsletter and get the latest two-way radio news and advance notice on promotions.